We offer a large inventory of First Aid and Safety Supplies. Please call us for a complete list.

Here are just some of the products we provide.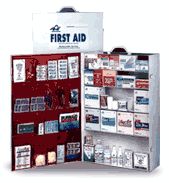 Cabinets

Our extensive line of first aid kits and cabinets provide a wide variety of products designed to maximize productivity and eliminate downtime due to minor accidents and employee discomfort.
Your Affirmed representative can assist you in finding an ideal location for your cabinet and train your employees how to properly use the items.
Each cabinet contains premium quality products designed to take care of deep cuts, abrasions, eye injuries, burn, and other common workplace injuries.
All are wall-mountable and meets or exceeds OSHA requirements and ANSI Z308.1-2003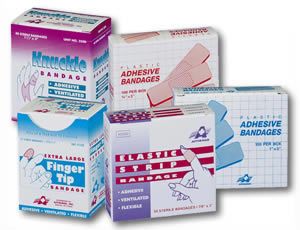 Bandages

Affirmed cloth bandages are made from heavy-duty elastic cloth and are latex-free. Able to hold up in water, dirt, grease, and many other environmental conditions. Cloth bandages allow wounds to breathe and promote healing. Available in strips, fingertip, knuckle, and patch.
Our Blue Metal-detectable bandages are excellent for restaurants, bakeries and other food service industries. They are made of the same durable fabric as our other bandages, but are bright blue and highly visible. They are ideal for the food service industry because the bright blue color is distinctly different from other food colors and can be easily identified if dropped. And the specially designed metalized film in the wound pad works great for organizations that depend on metal detectability. And unlike our competitors, our blue bandages are the same low prices as our regular line of bandages!






Eye Wash

If a small particulate or a chemical should get in the eye or on the skin, Affirmed offers Eyewash and Eye and Skin flushing Solutions in a variety of sizes. Break-away tops help eliminate cross-contamination.
Where MSDS and ANSI indicate the need for emergency eyewash with a minimum fifteen minutes of immediate, continuous care, Affirmed is well prepared to meet your needs as well.

Note: Typically hand-held squeeze bottles, while very useful are considered personal eyewash units and do not meet ANSI standards where chemical agents have affected the eyes and/or skin. Their function is to support primary units.
Tablets

Trust Affirmed First Aid to boost productivity and morale with our premium-quality tablets. Put headaches, colds, upset stomachs and other minor ailments in their place with our non-drowsy, fast acting formulas designed for the workplace. These safe and effective tablets are sealed in tamper-evident, single-dose packets. Make Affirmed First Aid the name you trust for improved workplace productivity.







Cotton & Gauze

Sterile and Non-sterile bandage and wound cleaning items that are flexible, absorbent and breathable. Excellent for controlling bleeding and preventing contamination of larger wounds.